In compliance with EU regulations, the IAA has established safety occurrence reporting processes for use by persons and organisations involved in civil aviation. The IAA recognises however that members of the public can, and do, contribute to safety management in the State, by reporting safety concerns they experience, either to the organisations involved (eg airlines, airports etc) or to the IAA oversight body directly.
The reporting systems developed by the IAA to meet the regulatory framework are freely open for use by members of the public as well. The IAA recognises that the regulatory-based reporting systems are designed with the expectation that the user has some involvement in, or knowledge of aviation. Therefore these systems may be extremely difficult for use by members of the public. Accordingly the IAA has developed an easy to use reporting form for members of the public that may be found here
The IAA values all safety occurrence reports equally, whether they are reported under the regulatory-based systems or whether they are reported outside the regulatory-based systems. All occurrence reports submitted to the IAA are subject to follow-up by IAA inspectors using a risk-based approach (ie the greater the risk the higher the level of concern).
Note on reporting of Drone Events:
The IAA website https://www.iaa.ie/general-aviation/drones contains guidance on the do's and dont's of operating drones to ensure aviation safety. This includes the following guidance.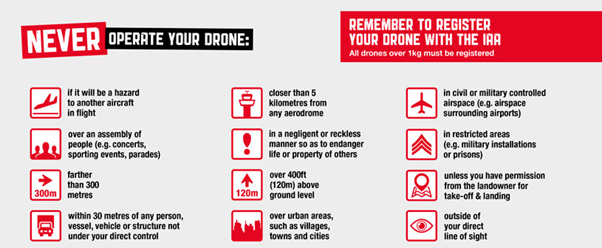 Members of the public are encouraged to report instances on the use of drones outside these guidelines to the IAA.
It should be noted that drone users may comply with aviation safety rules but be in breach of privacy or security rules or may be causing a general nuisance. The IAA has no jurisdiction in these cases but reports of this kind may be reported to an Garda Siochana.