The next scheduled dates for PPL Examination sittings are as follows:
Due to Covid-19 public health measures that may be imposed at short notice, planned examination sittings may need to be amended, postponed or cancelled
2023: PPL EXAM DATES - DUBLIN AND CORK
| MONTH | EXAM DATE | CLOSING DATE |
| --- | --- | --- |
| | | |
| JANUARY | 23RD – 25TH JANUARY | 2ND JANUARY |
| | | |
| MARCH | 6TH – 8TH MARCH | 13TH FEBRUARY |
| | | |
| APRIL | 17TH – 19TH APRIL | 27TH MARCH |
| | | |
| MAY | 29TH – 31ST MAY | 8TH MAY |
| | | |
| JULY | 10TH – 12TH JULY | 19TH JUNE |
| | | |
| AUGUST | 21ST – 23RD AUGUST | 31ST JULY |
| | | |
| OCTOBER | 2ND – 4TH OCTOBER | 11TH SEPTEMBER |
| | | |
| NOVEMBER | 13TH – 15TH NOVEMBER | 23RD OCTOBER |
| | | |
Please note that examinations may be affected by restrictions enforced during the COVID-19 pandemic.
This may include restrictions such as reduction in available places, staggered start times, postponement, cancellation etc.
Please check this page regularly for updates.
Please contact your ATO / DTO with any queries relating to theoretical knowledge training.
Application forms may be downloaded here.
________
PPL Examinations
PPL examinations are delivered using the Authority online examination system (LPLUS-PEXO) at one of its approved examination centres.
Nine examinations are offered which are:
P10 - Air Law
P20 - Human Performance & Limitations
P30 - Meteorology
P40 - Communication
P50 - Principles of Flight
P60 - Operational Procedures
P70 - Flight Performance & Planning
P80 - Aircraft General Knowledge
P90 - Navigation
A cross reference to the old examination layout is available below and includes details of the number of questions in each exam and the duration of same.
Anyone that is transitioning from the old system to the new one, with outstanding papers to take shall, now take any examination(s) associated with the previous paper as outlined below: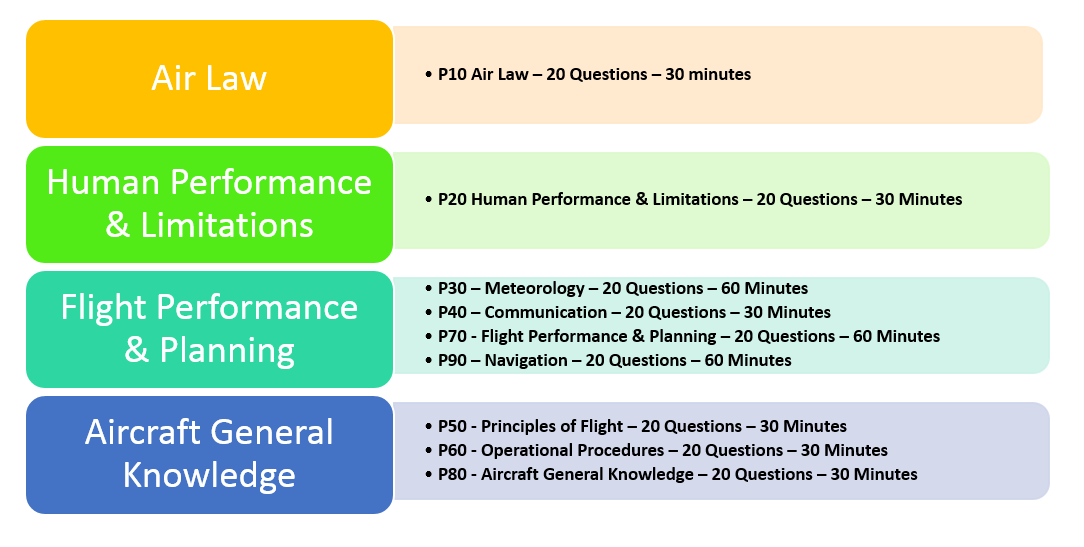 PPL Examination Fees
Please note, PPL Examination fees for the time being, will be charged as a set based (or part thereof) system as follows:
P10
Airlaw
€40
P20
Human Performance & Limitations
€40
P30
Meteorology
€40 for the set of 4, or part thereof
P40
Communication
P70
Flight Performance & Planning
P90
Navigation
P50
Principles of Flight
€40 for the set of 3, or part thereof
P60
Operational Procedures
P80
Aircraft General Knowledge
The syllabus to be used for PPL examinations may be found in AMC1 FCL.210; FCL.215 to Part-FCL (Link to Regulation & AMC on EASA Website).
Sailplane Pilot Examinations
The breakdown of SPL exams is as follows: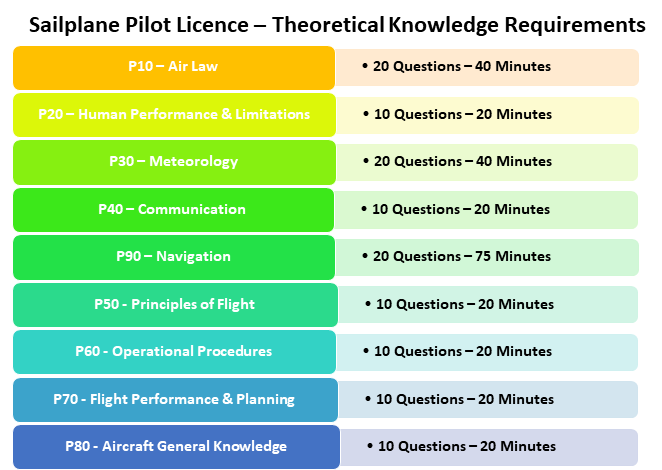 The syllabus to be used for SPL examinations may be found in AMC1 SFCL.130. to Part-SFCL
Each exam is offered and taken separately.
Notification for exams and results are now sent by email. Please ensure your email address is legible on your application and provide an address that you regularly access.
(Venue: IAA HQ, The Times Building, 11/12 D'Olier Street, Dublin 2) - Subject to Change
Note: PPL (Free Balloon), PPL (Weight-Shift Microlight and PPL (Gyroplanes) examinations will be held by the IAA in consultation with the representative associations.
Foreign Exams
A complete set of EASA PPL examinations carried out under the direct control of another EU Member State may be acceptable towards the issue of an EASA PPL licence subject to satisfactory verification.
Please note that it is not possible to get satisfactory verification from some states. Therefore, sitting of foreign exams is not recommended as their acceptance may not be possible.
Foreign theory exams may not be used to support an application for a national licence.
Fees
Fees for theoretical examinations may be found in schedule 23 of the IAA Fees Order which may be accessed here