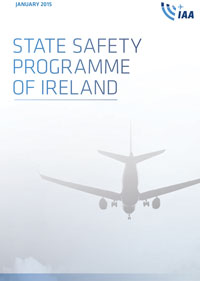 A State Safety Programme (SSP) is defined by ICAO as an integrated set of regulations and activities aimed at improving safety. It includes specific safety activities that must be performed by the State, and regulations and directives promulgated by the State to support fulfilment of its responsibilities concerning safe and efficient delivery of aviation activities in the State.

The State Safety Programme may be viewed here.
The aim of the SSP is to combine elements of both prescriptive and performance based approaches to the management of safety. It is important to implement an SSP in conjunction with the implementation of an SMS by service providers.
The core objective of SSP and SMS is to get ahead of safety risks through the development of safety management capabilities within the State's oversight authorities and its service providers, rather than waiting for accidents, incidents or events of non-compliance. The key element of a successful system is measurement -you cannot manage what cannot be measured. Measurement, in turn, requires data. It follows that safety data collection, analysis and exchange is at the heart of the interactive nature of the SSP and the industry SMS.
Ireland's SSP will be continuously developed, in conjunction with EU regulation, to appropriately interlink with the implementation of SMS in the various service providers regulated by the IAA.
There are four key components in the IAA's Safety Programme:
Safety Policy and Objectives
Safety Risk Management
Safety Assurance
Safety Promotion
Each component is subdivided into elements, which detail the specific sub-processes, specific activities or specific tools that the IAA safety regulation division utilises in order to conduct the management of safety in a manner that combines prescriptive and performance based approaches and supports the implementation of SMS by service providers.
Safety Policy and Objectives
The function of the safety policy and objectives component is to outline the regulatory structure, including who is responsible for each element and the responsibilities of each approved organisation and individual licensed person. The elements of this component are:
Safety legislation framework
Safety responsibilities and accountabilities
Accident and incident investigation
Enforcement policy
Safety Risk Management
The function of Safety Risk Management is to identify safety hazards and assess the safety risks in aviation in Ireland. This includes, at a European level, the establishment of controls (rules and/or regulations) which govern how each EU State manages safety, EU regulations to govern how a service provider's SMS operates, as well as agreement on the safety performance of the service provider's SMS.
The IAA safety risk management system is composed of two elements:
Safety requirements for service providers SMS
Agreement on service provider's safety performance
Safety Assurance
Safety Assurance is how the IAA will ensure that safety management within the Irish aviation system, and particularly in the operation of the service providers' SMS, follows the established regulatory controls (requirements, specific operating regulations and implementation policies). In effect, the IAAs safety assurance processes are used to obtain confidence in service providers' safety management capability as demonstrated in assessment of their SMS. The safety assurance is composed of three elements:
Safety oversight
Safety data collection, analysis and exchange
Safety data driven targeting of oversight on areas of greater concern or need
Safety Promotion
The aim of safety promotion is to improve the overall knowledge and understanding of the requirements, guidance and other data related to the various elements of the aviation system through increased effective communication. There are two elements to safety promotion:
Internal training, communication and dissemination of safety information
External training, communication and dissemination of safety information