IAA Wins Prestigious EU SES Award for Remote Towers Trial
The Irish Aviation Authority (IAA) is delighted to announce that it has been awarded a prestigious EU Single European Sky Award for the success of its recent Remote Tower trials. The announcement was made by Violeta Bulc, EU Commissioner for Transport and Henrik Hololei, European Commission Director General at DG MOVE at a ceremony held on 7 March during the World ATM Congress in Madrid.
The IAA has successfully completed operational trials on remote tower technology. In 2016, the IAA, along with a consortium of stakeholders, validated the SESAR JU concept of remote tower technology through a series of operational trials (based on over 50 demonstrations). These highly successful trials built upon the experience of single remote tower operations and validated the capability for single air traffic controller operation of multiple remote towers.
Eamonn Brennan, IAA Chief Executive said, "Air travel is expected to double in the next 20 years across the globe and I firmly believe that air traffic services have to continue to innovate. As a result of our remote tower trials, we have proved that tower services at multiple airports can be safely provided by a single air traffic controller remotely. We believe this work represents the world's first trial of multiple tower remote operation's by a single air traffic controller."
He added that, "The IAA has a strong tradition of being innovative to deliver cost efficiency, improved safety and higher productivity levels. With this in mind, we are delighted with the outcome of our recent Remote Tower technology trials and we are extremely honoured to have secured this award from the EC. This is a great endorsement of our hard work, our findings and the great work of the IAA team."
Background on the IAA Remote Tower Trial
In March 2016, the IAA completed the system installation, which was supplied by Saab. This was composed of three main elements:
• Remote towers, sensors and cameras at Cork and Shannon airports,
• A Remote Tower Centre in Dublin, and finally
• Network connectivity between the remote sites at Shannon and Cork and the Centralised Control Room in Dublin.
From June to August 2016, the IAA worked to validate the system through operational trials, which tested the bounds of remote tower technology. Trials started with low volume traffic levels to emulate night-time operations at Shannon and Cork. Traffic levels were then progressively increased throughout the trials to investigate the level of air traffic that can be safely handled. These trials validated that single controller operation of multiple remote towers in a live air traffic environment, this we believe is a world first.
IAA also demonstrated the significant safety benefits from the enhanced visual displays offered by the Remote Tower Centre. These include integrated track and label information as well as the ability to digitally enhance imagery.
This technology is still at a relatively early stage of development, with only a few operational implementations at isolated airports with few movements. Remotely operated towers do offer significant potential to assist air navigation service providers (ANSPs) to reduce and control their costs in line with airline and European Commission expectations without negatively impacting on safety and/or service delivery. This potential is greatest at smaller, less busy regional airports where the volume of traffic is likely to be insufficient to cover the costs of service provision at a user charge that is sustainable from the customers' perspective. Furthermore, remotely operated towers may also provide a solution for busier airports in terms of effectively managing operations at night time and other periods of low traffic. The potential of remotely operated towers will, however, only be realised if safety and operational reliability are guaranteed. To this end, early regulatory approval in Europe is required.
The IAA wishes to thank the SESAR JU, our consortium partners, the daa and Stobart Air as well as all of our other customers for the support and encouragement received with this highly innovative project.
For more information on the IAA's Remote Towers Trial please see here: https://www.iaa.ie/air-traffic-management/innovation/remote-towers.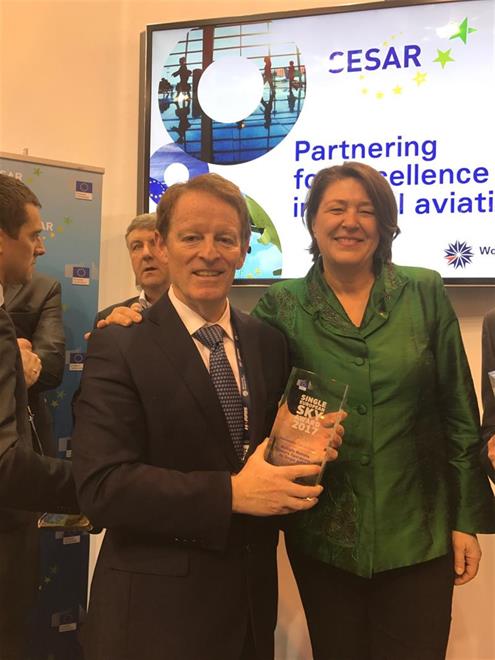 Eamonn Brennan, CEO, Irish Aviation Authority collecting the SES Award for cost efficiency from Commissioner Bulc.