IAAs Award-Winning Innovation Saved Airlines Euro 5.5m in 2013
The Irish Aviation Authority's (IAA) cutting edge 'Point Merge' innovative air traffic management system has provided savings of €5.5 million to airlines flying into Dublin Airport during 2013. These savings have been achieved in fuel costs and tangible savings in CO2 emissions.
The Point Merge technology revolutionises the way in which aircraft are sequenced or banked to land. It reduces the time aircraft spend waiting to land during busy periods at the airport. It has practically eradicated the need to put aircraft into traditional circular holding patterns at Dublin.
Point Merge manages traffic flow in order to space aircraft more efficiently and eliminate the need for vectoring or stacking. However, if there is runway congestion, this system holds the aircraft at much higher altitudes in linear 'arcs' which consequently decreases fuel burn and reduces the effect on the environment. This has provided savings to airlines by reducing their fuel burn and cutting their CO2 emissions, as well as reducing delays to passengers.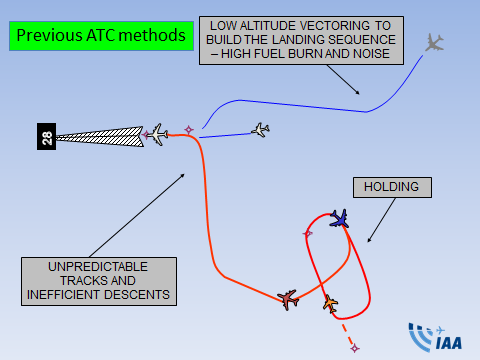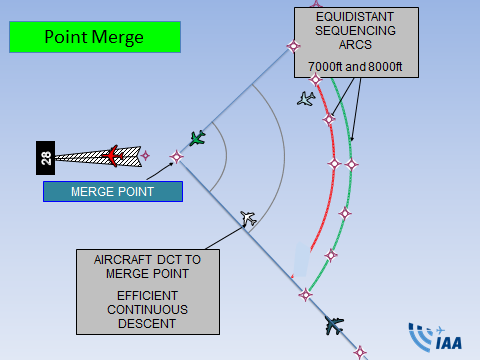 Mr. Peter Kearney, IAA Director Air Traffic Management Operations and Strategy said that Point Merge was part of the IAA's strategy to develop new, innovative air traffic management solutions that deliver safe, efficient and cost effective services to its airline partners.
"By using this linear holding, instead of the traditional 'race track circular systems', the aircraft is always at a fixed distance from the runway so that it is just one turn from a direct approach to the runway at all times. After 12 months of continuously successful operations, we're delighted with the savings we have delivered to our customers, the airlines," he said.
An independent analysis conducted by NATS (UK Air Navigation Service Provider) established that, by using Point Merge, airlines landing at Dublin Airport in 2013 saved 127kg of fuel, worth €93.10, per flight and reduced their fuel requirement by 19.1%.per flight. It also found that aircraft reduced the length of the flight by 11.3 miles, a 17% saving. Point Merge also provided savings of 23,500 tons of CO2, representing a 19% reduction.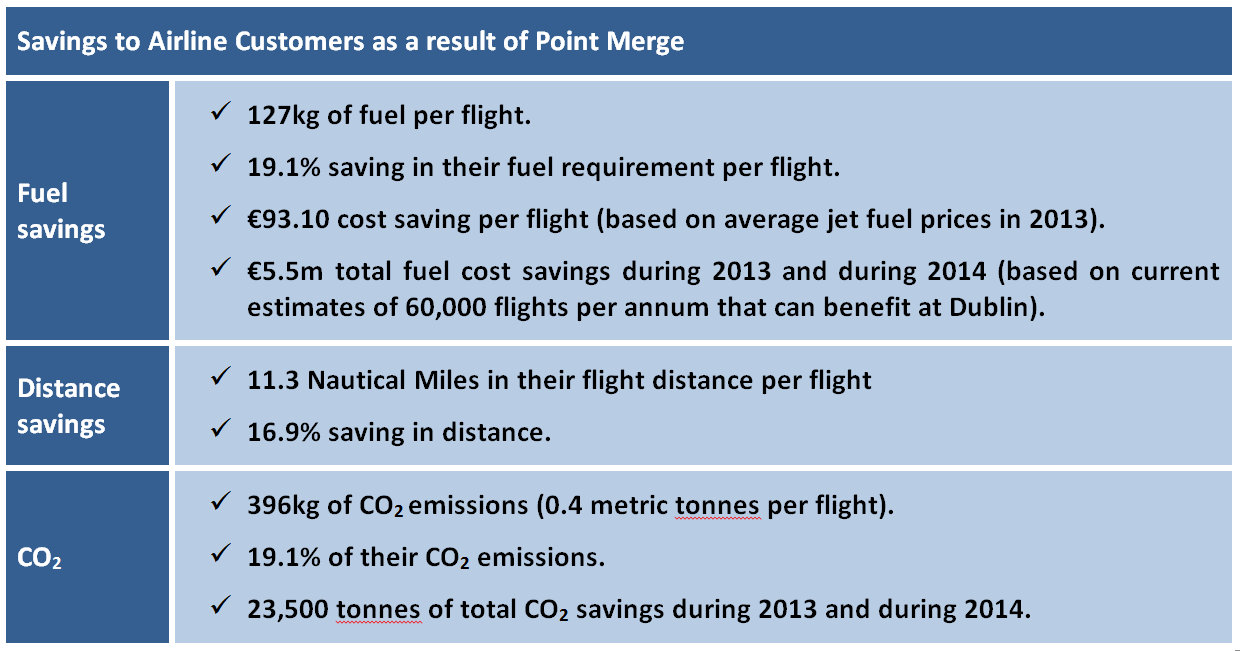 In recognition of the tremendous benefits it has enabled, Point Merge won both the Overall Logistic and Transport Excellence Award and the Innovation in Action Award at the Irish Logistics and Transport Awards in March 2013.
Point Merge is at the leading edge of advances within air traffic management and further enhances the IAA's position as a global leader within the industry.
Since the IAA implemented Point Merge in December 2012, the Authority has been providing expert guidance to other large international hub airports, including London Heathrow and Dubai, on how to implement this innovation in their airspace.
For more information contact:
Tony Lane
Communications Executive
Tel: +353 1 603 1199
Mob: +353 86 7911864