Focus on Business Opportunities Between Ireland and India in the Aviation and Aerospace Sector Will Bring Jobs
14th November 2014: The Ireland India Business Association announced the first release of a report 'India: Ireland - Bilateral trade and collaboration opportunities in the aviation and aerospace sector' at its Annual luncheon sponsored by Etihad at the Shelbourne Hotel on Wednesday 12th November.

The Report outlined the significant opportunities for Irish aviation and aerospace businesses in India which is likely to be one of the fastest growing aviation markets in the world in the next decade. Fifty airports are scheduled to be built by 2020. When translated into fleet requirement, this works out to about 1,000 commercial fleet, a total of 681 operational general aviation aircraft including 250 helicopters and 300 business jets in the country.

The new Indian Government has embraced the major challenge which will be to manage this growth while ensuring safety and adequate skills development. Huge investment is expected in the Indian aviation and aerospace engineering sector. Airport, airspace and air traffic management infrastructure will assume critical importance in the context of the Indian air transport sector. There is a need for modernisation and upgrading of existing systems and equipment and the Indian Government is welcoming foreign investors with open arms.

The upside potential for growth in the Irish aviation and aerospace sector is significant. Airport, airspace and traffic management are core capabilities. Established Irish infrastructure and retail management capabilities combined with its position of strength in the financing and leasing of aircraft - 60% of global market - offers an opportunity for increased completion, refurbishment and transition work for the MRO sector. It will also develop the burgeoning sub-supply (products, systems and services) segment and technological innovation. The addition of the education and skills training capabilities available to the global aviation and aerospace sector will further leverage these capabilities.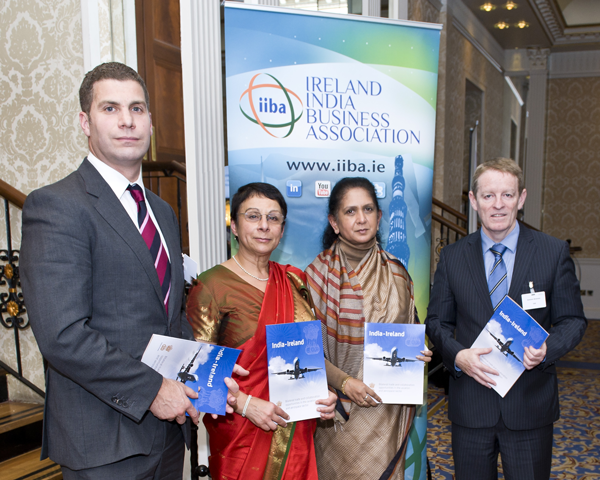 (L-R Kevin Cleary, Senior Vice President, daai; NilaKanthi Ford, Chairman IIBA; Her Excellency Mrs. Radhika Lal Lokesh, Ambassador of India to Ireland; Eamonn Brennan, Chief Executive, IAA)

Ms NilaKanthi Ford, new Chairman for the IIBA yesterday, said: "The Report 'Bilateral collaboration and trade opportunities in Aviation and Aerospace' is the first of such IIBA initiatives. Research for this was undertaken in collaboration with the Indian and Irish Government and State Departments as well as the aviation and aerospace sectors in both countries.

On the one hand, we have in India, a country in its nascent stages of growth. Aircraft fleets are growing and the opportunity of travel is becoming more open to more people. India is looking for investment partners in airport infrastructure development, satellite navigation systems, maintenance and repair in addition to up skilling a whole generation of workforce.

On the other hand, what we have in Ireland is a country steeped in aviation activities- one of the country's closely guarded secrets. 9 out of 10 of the world's top leasing companies are based out of Ireland and some 250 companies which support this industry are based here. By coming together as a cluster and promoting itself as one single industry, the opportunities to explore in India are significant."

Mrs. Radhika Lal Lokesh for Government of India Ambassador to Ireland said "With the multiple initiatives being announced by the new government of Prime Minister Modi to foster development and economic growth and with the stronger signs of economic recovery in Ireland, there are significant opportunities to take our bilateral engagement forward. The Indian Government has a firm commitment to chart a new path and a red carpet welcome in a spirit of cooperation. We look forward to developing this relationship with Ireland in the aviation and aerospace sector."

Eamonn Brennan, Chief Executive, IAA said: "Ireland is a centre of excellence for aviation and the sector is of major importance to Ireland, contributing over €4 billion directly to our GDP and supporting over 40,000 jobs. Ireland and India have a long history of cooperation and we are very keen to support India in the development of its civil aviation industry. This interim report highlights that there are vast opportunities for cooperation. I am certain that the Irish aviation industry can assist India in helping to meet its growth targets.

Kevin Cleary, Senior Vice President daa International commented "Our parent group daa is strongly supportive of enhancing the existing links between Ireland and India. We already have a significant business in India through our subsidiary ARI's role in the award-winning Delhi Duty Free business. daa International is also active in the Indian market, our airport development and infrastructure expertise will prove invaluable in supporting India's rapidly developing airport infrastructure"

For more information, contact:
Tony Lane,
Communications Executive,
Irish Aviation Authority
Tel: +353 86 791 1864