The Latest News From the IAA
Air Traffic Up 5.7% in September
Figures released by the Irish Aviation Authority (IAA) today indicate that the amount of traffic safely handled by air traffic control climbed 5.7% in September to 99,838 flights, compared to 94,473 during the same month in 2015. This traffic continues the trend of growth across all areas in 2016, and brings total air traffic handled by the IAA in 2016 to 845,582.
There was an increase of +8.8% in North Atlantic Communications flights (Europe /US Flights) during September 2016, in comparison to September 2015. September also saw a +1.4% increase in Ireland's overflight traffic movements (flights, which do not land in Ireland), in comparison to September 2015. There were 43,959 North Atlantic Communications flights and 30,409 overflight traffic movements during September 2016.
Individually, the September 2016 figures for the three State airports, when compared to the same month in the previous year are:
Commercial terminal flights at Dublin were up by +8.6% with an average of 623 daily movements at Dublin.
Commercial terminal flights at Cork were up by +12.1%, with an average of 58 daily movements at Cork.
Commercial terminal flights at Shannon were up by +3.3 % with an average of 61 daily movements at Shannon.
September also saw strong increases in a number of Ireland's 'Airport Pairs'*, where eight of Ireland's Top ten showed growth (or neutral growth), when compared to September 2015. The Schiphol Amsterdam-Dublin pair grew significantly, with a 57.9% increase on 2015, due to increased competition with Aer Lingus as a result of increased services from both Ryanair and KLM.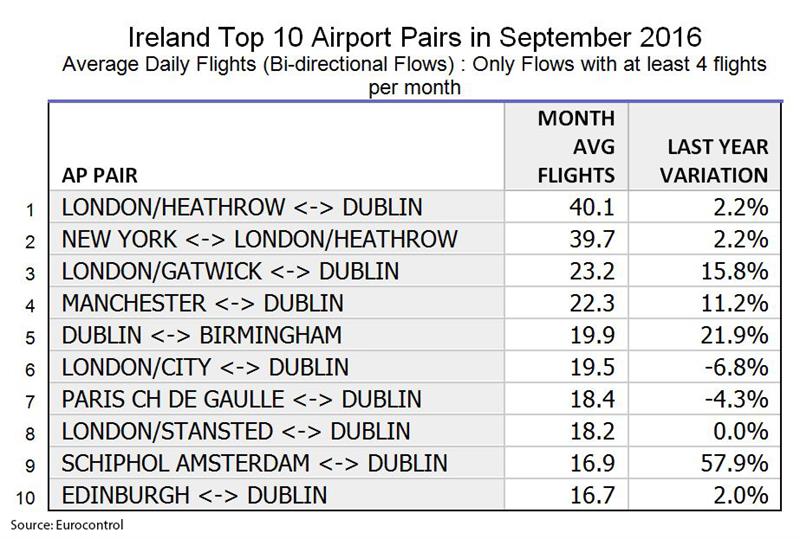 * In commercial aviation, an airport pair is defined as a pair of departure (origin) and arrival (destination) airport codes on a flight itinerary.
For more information on flight statistics, please click here, or contact:
Alec Elliott
Irish Aviation Authority
Tel: +353 86 8223010
Email: alec.elliott@iaa.ie