The Latest News From the IAA
Winner Announced for Aircraft Maintenance Award at IrelandSkills National Competition: Proudly Supported by the IAA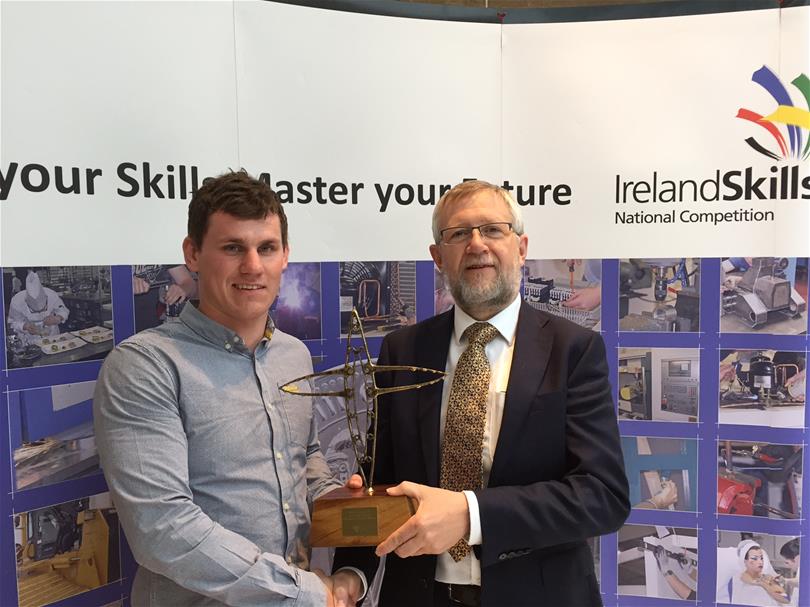 The Irish Aviation Authority (IAA) is delighted to have sponsored the Dublin Institute of Technology Aircraft Maintenance IrelandSkills National Competition. The Award is part of the IrelandSkills National Competitions 2016.
At the Award ceremony, IAA Assistant Director Airworthiness, Brian Skehan presented winner Florian Byrnes of Atlantic Aviation Group with a trophy and a Further Education Bursary Prize of €1,000.
The competition took place over three days, with competitors tested on seven areas of aircraft maintenance expertise.
IAA Assistant Director Airworthiness, Brian Skehan said: "The IAA is immensely proud to support the Aircraft Maintenance National Competition and we'd like to congratulate this year's winner, Florian Byrnes. Effective aircraft maintenance is essential in maintaining aviation safety and I'm happy to say that we have an excellent culture in Ireland where these skills are developed and maintained".
Aircraft Maintenance award winner, Florian Byrnes said: "I'm delighted and humbled to have won this Award. It's a great recognition of many years of developing my skillset and expertise".
Florian Byrnes may now be eligible for selection as a competitor representing Ireland at the 44th WorldSkills Competition, which will be held in Abu Dhabi, United Arab Emirates in October 2017.
The Award ceremony took place on the Friday 17th June in the Radisson Blu Hotel, Golden Lane, Dublin.
For media queries, contact:
Tony Lane
Communications Executive
Irish Aviation Authority
Tel: +353 1 603 1199
Mob: +353 86 7911864