The Latest News From the IAA
Irish Flights Jump 13% in March
Figures released by the Irish Aviation Authority (IAA) indicate that the amount of traffic safely handled by air traffic control climbed 12.8% in March to 85,672 flights, compared to 75,925 during the same month in 2015.
This was largely spurred on by a 16.5% increase in Ireland's overflight traffic movements (flights, which do not land in Ireland) as well as an 11.9% increase in North Atlantic Communications flights (Europe /US Flights). There were 26,699 overflight traffic movements and 36,697 North Atlantic Communications flights during March 2016.
At the same time, total commercial traffic using Ireland's three main airports increased by 11.2% in March, with strong growth at Dublin, Cork and Shannon airports.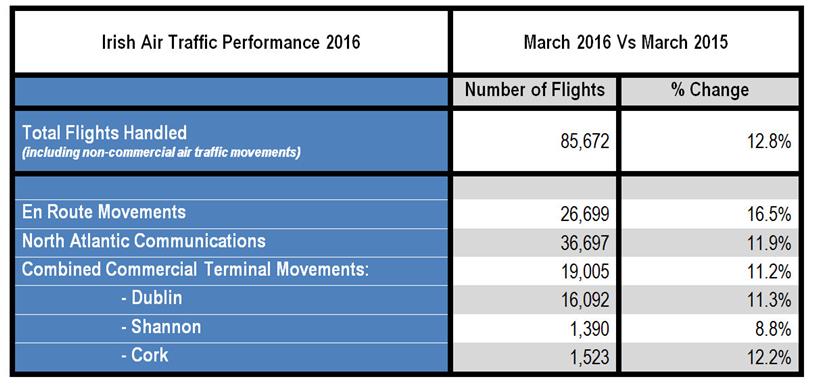 Eamonn Brennan, Chief Executive of the IAA, said, "March was a bumper month, benefiting from increased demand due to the St. Patrick's Day and Easter festivities. Interestingly, due to the French air traffic control strikes, a lot of additional aircraft had to route around France and fly through Irish airspace to reach their destinations; we had days in March which were as busy as the peak summer period.
We're also seeing a return to sustained growth all the State airports. The announcement this week by the daa to build the new parallel runway at Dublin Airport is consistent with the airport's sustained growth and the need for additional runway and taxiway capacity to handle increased traffic volumes in the years ahead."
Individually, the March 2016 figures for the three State airports, when compared to the same month in the previous year are:
Commercial terminal flights at Dublin were up by 11.3% with an average of 519 daily movements at Dublin.
Commercial terminal flights at Cork were up by +12.2%, with an average of 49 daily movements at Cork.
Commercial terminal flights at Shannon were up by +8.8% with an average of 45 daily movements at Shannon.
Eight of Ireland's Top ten "Airport Pairs" grew in March. The most significant growth was for Schiphol Amsterdam – Dublin (+63.3%), Dublin – Birmingham (+27.8%), Manchester – Dublin (+17.2%) and New York – London/Heathrow (+12.9%).

Click here for more detailed flight statistics.