The Latest News From the IAA
IAA to Cooperate with skyguide on Aeronautical Data Management Services
The Irish Aviation Authority (IAA) has signed a memorandum of understanding with the Swiss air navigation provider, skyguide, to cooperate on the provision of aeronautical data management services. This industry cooperation will enable considerable synergies and is a stepping stone to realising the Single European Sky. This co-operation will be based on the IAA's AIS-to-AIM data origination solution called ASSET®. The ASSET® platform, designed and implemented by CGH Technologies Inc. and CGH Technologies International LLC, has been deployed by the IAA with overwhelming success in what is described as the next evolution of software services versus a software product approach.
The IAA and skyguide believe that there is an opportunity for creating value to the air transportation industry. This value could be achieved through the development of a common operational concept and software platform, which could enable the ANSPs to streamline their processes, while delivering an enhanced and more efficient service. This could also lead to greater commercial opportunities through selling aeronautical data management as a service.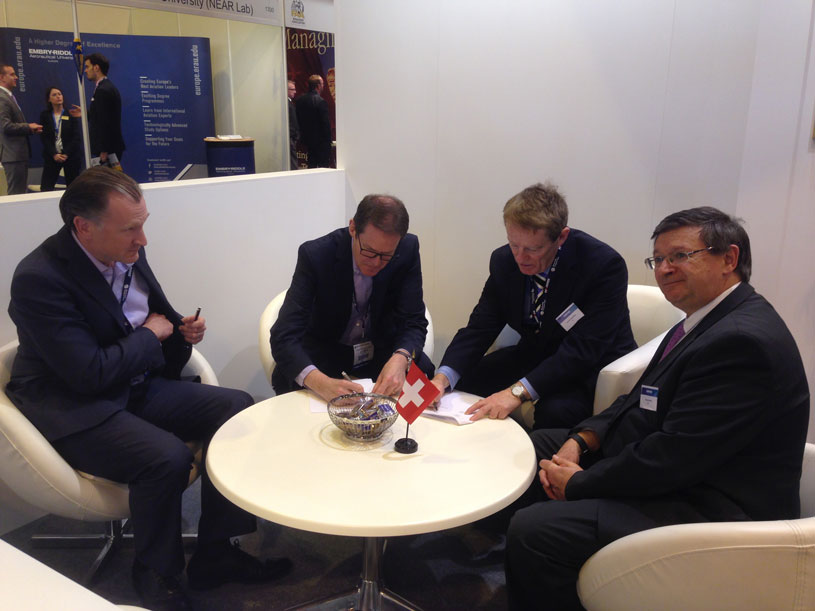 (L-R Alex Bristol, COO Skyguide, Francois Schubert, Deputy CEO Skyguide, Eamonn Brennan, Chief Executive IAA and Philip Hughes, Director Technology and Training IAA)
Eamonn Brennan, Chief Executive, IAA said: 'We are delighted to have signed this agreement with skyguide and look forward to the many synergies that it will yield. Dynamic industry cooperation such as this achieves real results and is helping to realise the goals of the Single European Sky '.
Daniel Weder, CEO, skyguide said: 'This represents an important step for skyguide in moving from the buying of products to the buying of services and we are very pleased to be cooperating with the IAA, who have also embraced this philosophy so important for the future of European aviation'.
In particular the IAA and skyguide have agreed to cooperate in areas of Aeronautical Information Management (AIM) such as:
data origination and originator data integration services
obstacle data management and obstacle data distribution services
harmonization of obstacle data management services and processes
harmonization of state mandates on obstacle data collection services to the extent legally feasible
further development of the ASSET solution (the IAA's online terrain mapping system) for the purpose of providing obstacle data origination and obstacle data management services to third parties and for the purpose of other cooperation areas
provision of aeronautical data management services to other state authorities, ANSPs and airports/aerodromes
consulting of aeronautical data management services to other state authorities, ANSP's and airports/aerodromes.
The unbundling of support services is a key element of Single European Sky (SES) policy and aeronautical data management is one of the areas identified where possible synergies could be achieved by ANSP's working together.