The Latest News From the IAA
IAA Handles Over 1 Million Flights in 2015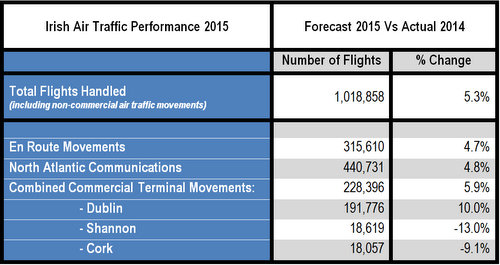 The Irish Aviation Authority will handle over 1 million flights in 2015, up 5.3% on 2014 and has predicted that traffic in Irish airspace will grow by 5% in 2015, driven by a 10% increase at Dublin Airport and nearly 5% growth in en route traffic (flights which pass through Irish airspace).


Eamonn Brennan, IAA Chief Executive, said, "2015 was a landmark year for the Irish aviation industry. We've seen a dramatic increase in air traffic at Dublin airport as well as a very strong demand on the Transatlantic. We will safely handle over 1 million flights this year at Irish airports and through airspace managed by the IAA. I'm very pleased with our performance.
Cork and Shannon have had a number of announcements in recent months and the commencement of new routes, which should see those figures rise in 2016.
Dublin Airport is now operating at 2008 levels and there is now a pressing need to construct a new parallel runway at Dublin airport as soon as possible.
Looking back, 2015 was full of milestones for the Irish aviation industry, including the sale of Aer Lingus to IAG and the continued expansion of Ryanair, who will carry over 104 million passengers. In August, the Minister for Transport Tourism and Sport published the new National Aviation Policy for Ireland and we're just about to introduce new rules requiring the registration of all drones with the IAA that weigh over 1kg.
The low US dollar exchange rate is supporting strong demand for transatlantic services to Europe, which Ireland benefits from. Jet fuel price is currently averaging around $50 a barrel, which is greatly benefitting the industry and airlines are maintaining capacity this winter when traditionally is was uneconomical to operate. The International Air Transport Association (IATA) has just revised its airline industry outlook for 2015 upwards to a net profit of $33 billion (4.6% net profit margin) from $29.3 billion forecast in June and predicts total net profits of $36.3 billion next year.
All things being equal, we're predicting another strong year in 2016."
Focus on November 2015
Traffic figures for November 2015 indicate that total flights in Irish airspace increased by +6.8% when compared to November 2014. There was an average of 1,402 daily flights during November 2015, with the busiest day being 20th November with 1,621 flights in Irish airspace.
There was an increase of +6.8% in Ireland's en route traffic movements (flights that pass through Irish-controlled airspace but do not land) during November 2015, in comparison to November 2014. The IAA's analysis of North Atlantic Communications flights (Europe /US Flights) saw an increase of +3.4% in November 2015, when compared to November 2014.
In relation to international arrivals and departures, the commercial terminal traffic for Shannon, Dublin and Cork airports was up by +7.3% in November. Individually, the November 2015 figures for the three State airports, when compared to the same month in the previous year are:
Commercial terminal flights at Dublin were up by +9.8% with an average of 491 daily.
Commercial terminal flights at Cork were down by -1.3%, with an average of 44 daily movements.
Commercial terminal flights at Shannon were down by -9.2% with an average of 43 daily movements.
Click here for more detailed flight statistics.
For media queries, contact:
Tony Lane
Communications Executive
Irish Aviation Authority
Tel: +353 1 603 1199
Mob: +353 86 7911864
<p
</p