The Latest News From the IAA
Traffic in Irish Airspace Up 5.4% in Q3 2015
9th October 2015: Traffic in Irish airspace increased by a robust 5.4% in Q3 2015, when compared to the same period in 2014. During Q3, there was an average of 1767 flights per day in Irish airspace, including almost 750 flights at the State airports of Dublin, Cork and Shannon.
In September alone, total flights in Irish airspace increased by 5.3%. The busiest day was 4th September with 1,877 flights in Irish airspace.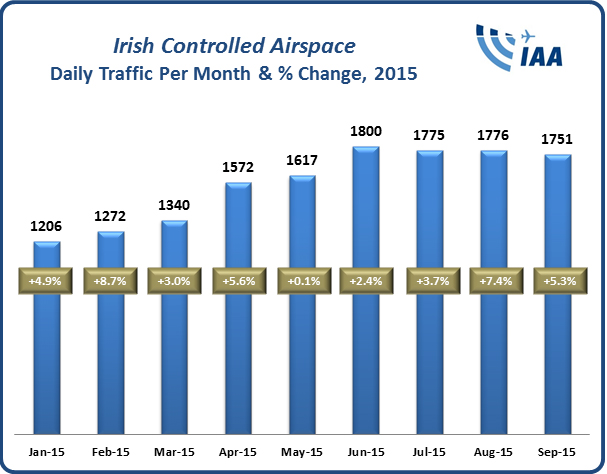 Eamonn Brennan, Chief Executive, Irish Aviation Authority said: 'Flights in Irish airspace continue to increase with strong growth recorded in Q3 2015. During this period we observed flights returning to pre-downturn levels across many areas of our business, including en route, North Atlantic Communications and Dublin Terminal Operations'.
During September 2015, there was an increase of 6.1% in Ireland's en route traffic movements (flights that pass through Irish airspace but do not land), in comparison to September 2014. North Atlantic Communications flights (Europe / North America) saw an increase of 5.6% in September 2015, when compared to September 2014.
There were 30,001 en route traffic movements and 40,397 North Atlantic Communications flights during the month.
In relation to international arrivals and departures, the commercial terminal traffic for Shannon, Dublin and Cork airports was up by 3.9% in September 2015, when compared to September 2014. Individually, the September 2015 figures for the three State airports are:
Dublin up by 9.1% with an average of 574 daily commercial movements.
Cork down by -11.3%, with an average of 52 daily commercial movements.
Shannon down by -21.1% with an average of 59 daily commercial movements.
Click here to view more detailed flight statistics on the IAA website.
ENDS
For media queries, contact:
Tony Lane,
Communications Executive,
Irish Aviation Authority,
+353 86 791 1864