Record Traffic in Irish Airspace
Figures released by the Irish Aviation Authority (IAA) today indicate that 2016 is on course to be a very strong year for air traffic in Irish airspace. The amount of traffic safely handled by air traffic control climbed by 7.4% in August to 107,895 flights, compared to the same month in 2015. This brings total air traffic handled by the IAA from January-August 2016 to 745,744, up 9.1% against the same period in 2015. Traffic in all areas grew during the month and exceeds previous peak levels last recorded in 2008.
Eamonn Brennan, Chief Executive of the IAA said, "
We are delighted with these figures. We continue to see strong growth on transatlantic routes handled safely by our air traffic controllers. All the State airports performed very well with Cork and Shannon reporting great results. Dublin, which accounts for 84% of the total State airport traffic grew 9.6% in August and has grown by nearly 10% in total so far this year, with over 140,000 movements. This is a very strong indicator of our economic recovery – 2016 looks set to be a record year for air traffic across Ireland.
"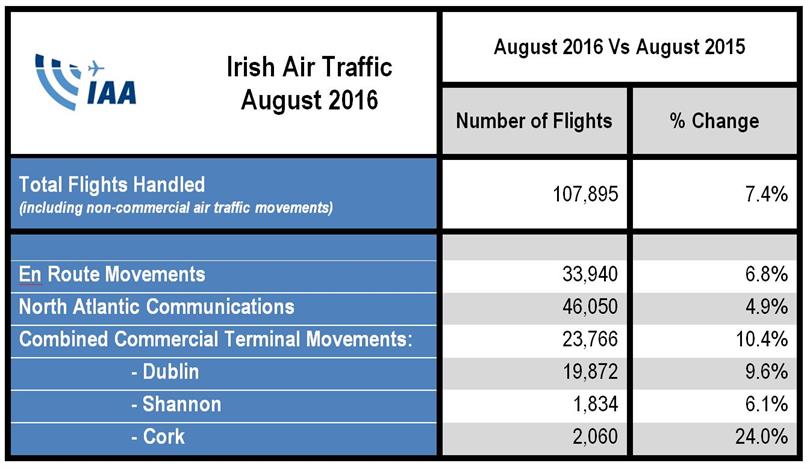 There was an increase of 6.8 % in Ireland's overflight traffic movements (flights, which do not land in Ireland) to 33,940 during August 2016, in comparison to August 2015, as well as a 4.9 % increase in North Atlantic Communications flights (Europe /US Flights) to 46,050.

Individually, the August 2016 figures for the three State airports, when compared to the same month in the previous year are:

- Commercial terminal flights at Dublin were up by +9.6 % with an average of 641 daily movements at Dublin.
- Commercial terminal flights at Cork were up by +24.0 %, with an average of 66 daily movements at Cork.
- Commercial terminal flights at Shannon were up by +6.1 % with an average of 59 daily movements at Shannon.

For more information on flight statistics, please click here, or contact:

Alec Elliott

Irish Aviation Authority
Mob: +353 86 8223010
Email: alec.elliott@iaa.ie