Total Flights in Irish Airspace up 2.7% in October
Total flights in Irish airspace have increased by a robust 2.7% during October 2014 when compared to last year. There was an average of 1,551 daily flights during the month, with the busiest day being 17th October with 1,729 flights in Irish airspace.

IAA Chief Executive, Eamonn Brennan said 'Airlines have now moved into their traditionally leaner winter schedules and we're seeing clear evidence that the volume of winter 2014/15 reductions is lower than in previous years. For the first nine months of 2014, our en route and North Atlantic communications are both ahead of last year, whilst Dublin and Shannon are consistently recording impressive growth figures. This positive trend reflects other very encouraging developments in the Irish aviation industry. Recently, Ryanair raised its profit forecasts for the year to €770 million; Aer Lingus released details of their best summer quarter since the economic downturn in 2008; and the DAA forecasted that its profits will increase by 12% in 2014 to €180m'.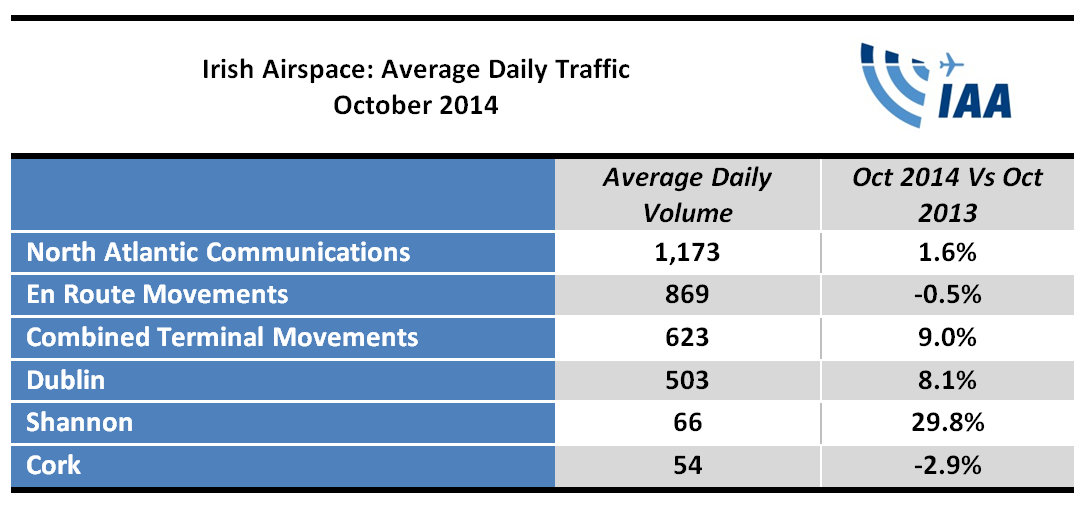 North Atlantic Communications flights (between Europe / North America) increased by 1.6% during October compared to the same month in 2013, with 36,350 North Atlantic Communications flights. However, there was a marginal 0.5% decline in Ireland's en route traffic movements (flights that pass through Irish airspace but do not land) during October 2014, in comparison to October 2013 (26,952 en route traffic movements).

On a cumulative basis, the change in en route traffic movements and North Atlantic Communications flights for the period January-October 2014, compared to the same period last year, was 1% and 4% respectively.

Commercial terminal traffic at Dublin and Shannon continued to climb strongly in October, with 8.1% and 29.8% growth recorded respectively. This is the tenth consecutive month of growth this year at Dublin and the seventh at Shannon. These solid performances are driving the total figure for growth at the State airports with terminal air traffic up 9.0% in October. Individually, the October 2014 figures for the three State airports, when compared to the same month last year are:
Dublin up 8.1% with an average of 503 daily commercial movements.
Cork down 2.9%, with an average of 54 commercial daily movements.
Shannon up 29.8% with an average of 66 commercial daily movements.
On a cumulative basis, commercial terminal traffic for Shannon, Dublin and Cork airports for the period January to October 2014 was up by a robust 6.4% when compared to the same period in 2013.
Click here for more detailed flight statistics.
For more information, contact:
Tony Lane
Communications Executive
Tel: +353 1 603 1199
Mob: +353 86 7911864