IAA Joins with Canada, Italy and Denmark to Provide Space-Based Air Traffic Control
20 December 2013: The Irish Aviation Authority (IAA) is delighted to announce that it is to participate in Aireon LLC, a revolutionary space-based air traffic surveillance venture. In this new deal announced today, the IAA will take a 6% stake in the company. Involvement in Aireon offers the IAA the potential to enter the global market for the provision of air traffic management services and will allow it to greatly enhance the services it provides to its airline customers.
The IAA will be one of five partners involved in this $400 million cutting edge technological partnership, including Iridium (USA) and the air navigation service providers NAV CANADA (Canada), ENAV (Italy) and Naviair (Denmark).
The Aireon system uses Automatic Dependent Surveillance Broadcast (ADS-B) technology installed on a network of 66 "Iridium NEXT" satellites to receive and send aircraft positional tracking data, making it possible to extend next-generation coverage across the entire planet and will constitute the first truly global air transport traffic management and surveillance system. With this technology, air traffic control services can be provided in nearly all parts of the globe from Ireland. It is a technological step change which will offer airlines significant fuel savings and fuel efficiencies of €100 million on the North Atlantic alone.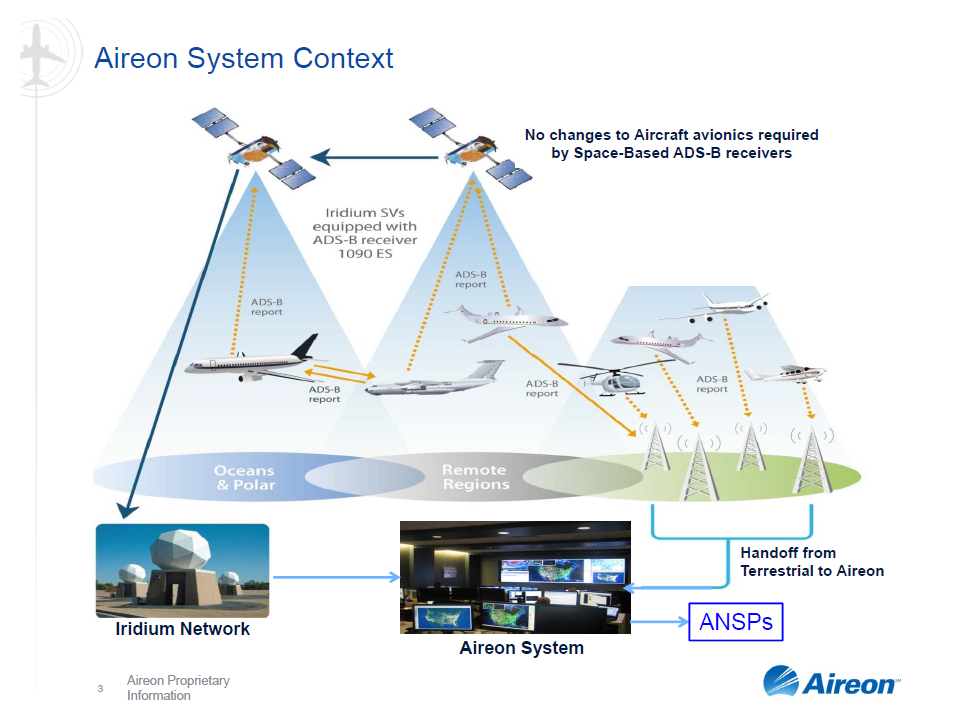 "Aireon represents the future of air traffic surveillance. This supports our focus to deliver safe, innovative and cost-effective air navigation services to our customer on a global scale. Providing airlines with the most optimal trajectories and ensuring that they fly safely through our skies is paramount to our mission as a world class air navigation service provider," said Eamonn Brennan, Chief Executive, IAA. "Aireon will deliver significant benefits to airlines flying in remote and oceanic airspace all around the world. By joining together with Canada, Italy and Denmark, we are creating a network of partners that understand the importance of satellite based air traffic control and the benefits to every flight path across the planet."
The Iridium NEXT satellites will be launched in 2015, with the Aireon surveillance service being available to ANSPs in 2018.
About The Irish Aviation Authority
The Irish Aviation Authority (IAA) is a commercial semi-state company employing approximately 670 people at five main locations in Ireland. The IAA is responsible for the provision of Air Traffic Management (ATM) in Irish controlled airspace (covering some 451,000 square km) and state airports, aeronautical communications on the North Atlantic, and the safety and security regulation of the civil aviation industry in Ireland. The IAA receives no operational or capital expenditure funding from the State. Its revenues are generated through charges and fees, which are amongst the lowest in Europe, raised from airlines. For more information about IAA, visit www.iaa.ie
About Aireon LLC
Headquartered in McLean, Virginia, USA, Aireon LLC was formed to provide air navigation service providers with the capability to track aircraft anywhere in the world in near-real time, including the only coverage over oceanic, polar and remote regions. Aireon will harness the best of aviation surveillance advancements already underway and extend them globally in order to significantly improve the business of air operations through increased efficiency, expanded safety, worldwide integration and significant cost savings to airlines and ANSPs alike. For more information about Aireon, visit www.aireon.com
About Iridium Communications Inc.
Iridium (Nasdaq: IRDM) is the only mobile voice and data satellite communications network that spans the entire globe. Iridium enables connections between people, organisations and assets to and from anywhere, in real time. Together with its ever-expanding ecosystem of partner companies, Iridium delivers an innovative and rich portfolio of reliable solutions for markets that require truly global communications. The company has a major development programme underway for its next-generation network – Iridium NEXT. Iridium Communications Inc. is headquartered in McLean, Virginia, USA and its common stock trades on the NASDAQ Global Select Market under the ticker symbol IRDM. For more information about Iridium products, services and partner solutions, visit www.iridium.com
ENDS
For more information, contact:
Tony Lane,
Communications Executive
Irish Aviation Authority
Tel: +353 1 603 1199
Mob: +353 86 7911864