Eurocontrol ACE Benchmarking Report 2014 published in March 2016 confirms the competitiveness of the IAA Air Navigation Service.
With the advent of European Regulation for En Route Services and ongoing Terminal Cost regulation, the IAA has performed very well in a European Context. This report presents factual data and analysis on cost-effectiveness and productivity for 37 Air Navigation Service Providers (ANSPs) in Europe. The analysis focuses primarily on costs that are under ANSPs' direct control and responsibility, namely ATM/CNS provision costs.
Air Navigation En Route Charge
User charges for en route services are established in accordance with an international agreement under the EUROCONTROL convention. The billing system is managed by the EUROCONTROL Central Route Charges Office (CRCO). The current IAA en route unit rate for 2016 is €29.67 (national unit rate).
The IAA has consistently maintained one of the lowest en route user charge unit rates, making Irish airspace economically attractive to airspace users.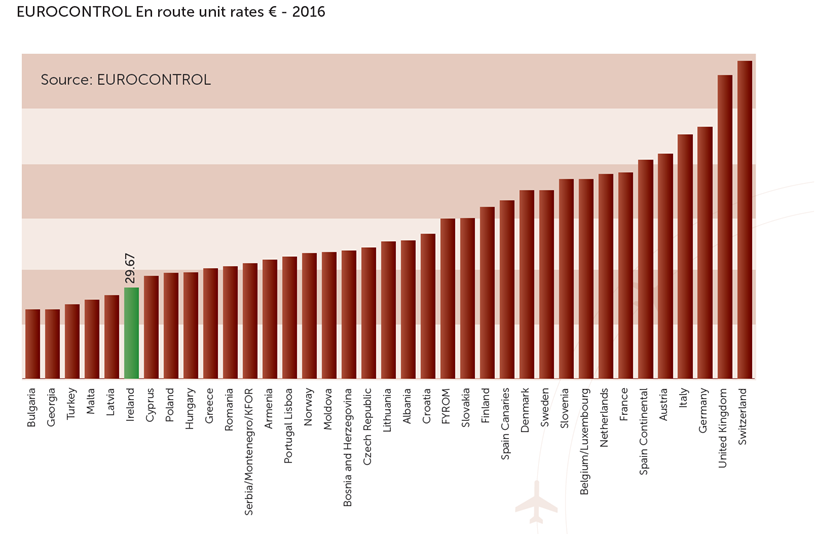 ---
Financial Cost Effectiveness Gate‐to‐Gate ATM/CNS 2014
In 2014, unit ATM/CNS provision costs range from €743 (Belgocontrol) to €183 (MATS). Although the five largest ANSPs operate in relatively similar economic and operational environments, there is a substantial variation in unit ATM/CNS provision costs, ranging from DFS (€555) to NATS (€437).

The IAA's overall cost efficiency remains strong with a cost per composite (total) flight hour of €323 against a European average of €429.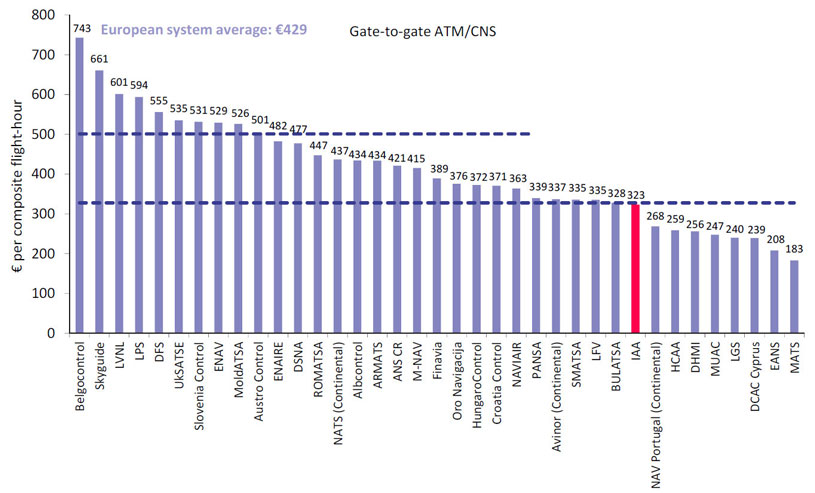 EUROCONTROL ACE Report Published March 2016