Welcome to the Irish Aviation Authority's Media Centre.
Women in Irish aviation honoured with awards
May 28, 2019, 09:37 AM by Alec Elliott
Congratulations to Aine O'Gorman and Grainne Cronin on their Contribution to Irish Aviation 2019 awards, which they received at the annual aviation gala ball. Both Aine, an Air Traffic Controller and Grainne, an Aer Lingus Pilot were trailblazers for women in the Irish aviation industry, becoming the first women to take up roles in a world dominated by men.

Both women led the way for generations of women in Irish aviation and their pioneering roles were recognised for this achievement.
Dublin Station Manager, Aine became the first female Air Traffic Controller in 1982 and Grainne became Aer Lingus' first female pilot in 1977.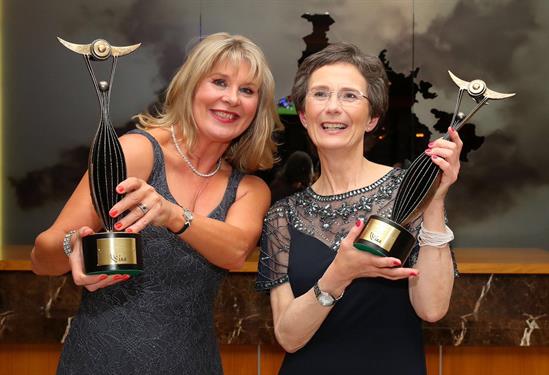 Name: Alec Elliott
Address: The Times Building, 11-12 D'Olier St, Dublin 2
Tel: + 353 87 706 4018
Email: alec.elliott@iaa.ie
Name: David Curtin
Address: The Times Building, 11-12 D'Olier St, Dublin 2
Tel: + 353 86 283 2123
Email: david@curtin.ie