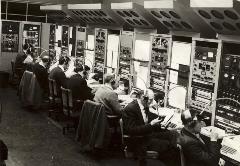 Shannon Aeradio was founded in 1936 to provide a communication service for flying boats which commenced flying the North Atlantic in 1937. Flights took around 18 hours to fly between Foynes, in Ireland and Botwood, in Newfoundland and communications were in Morse code. Each flight carried a Radio Officer who kept in contact with the ground stations in Ballygirreen and Botwood.
Over the next few years communications changed from Morse code (wireless telegraphy) to voice (radio telephony). RTTY (radio teletype) also replaced Morse code for station to station working. Shannon Aeradio originally consisted of Ballygirreen (Receiving station), Urlanmore (Transmitting station), Foynes (land lines) and Rineanna or Shannon (Control). Medium wave transmitters were used mainly for meteorological data and for communicating with aircraft arriving or departing Foynes or Rineanna (now Shannon Airport). In 1939, forty six flying boats crossed the Atlantic during the flying boat season between June and October.
After the Second World War, the rapid development in land planes made the flying boat uncompetitive. In 1946, flying boats ceased operations and land planes commenced flying into Shannon Airport.
In 1952, the original timber hut buildings at Ballygirreen were replaced by the present permanent building to cater for the expected increase in trans-Atlantic aviation.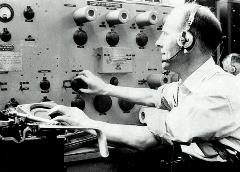 Prior to 1966, the United Kingdom and Ireland both provided Air Traffic Control (ATC) and Communications services in the same area of the North Atlantic. The air/ground communication station at Ballygirreen worked to the ATC centre at Shannon and the communication station at Birdlip, Gloucestershire worked to the ATC centre at Prestwick, Scotland. This caused duplication of work and an agreement was reached between the UK and Irish governments where Prestwick and Ballygirreen would work as one unit. Prestwick assumed the ATC (Air Traffic Control) function and Ballygirreen assumed responsibility for communications, hence the name "Shanwick".

In 1967, Shannon Aeradio was the first telecommunications centre in Europe to computerise the Aeronautical Fixed Telecommunication Network (AFTN) and air ground message handling systems. The computer based message switching system was able to handle the work of 60 people in a few seconds by distributing the messages to the different centres.
Prior to that, a "torn tape" system was used where the messages were punched on to a tape and fed into dedicated machines for the different destinations. By the late 1970's, 70,000 flights were crossing the Atlantic annually.
Up to the early 1950's, Shannon Volmet consisted of a broadcast of actual weather and forecasts for the following airports: Shannon, Dublin, Prestwick, Hurn (Bournemouth), Amsterdam and Brussels. The weather reports were received from the Meteorological Office in plain language and broadcast in Morse code. By 1960, it had become an all radiotelephony broadcast and the broadcasts were shared by the Radio Officers on duty. The number of airports and types of meteorological reports also increased in line with the changing needs of aviation.
In the air/ground communications area, developments in technology have meant that High Frequency (HF) is no longer the sole means of ATC communications for aircraft crossing the Atlantic Ocean. Since 2001, operational trials of data-link communications using satellite have been underway. Currently, approximately 85% of aircraft transiting the Shanwick Oceanic Control Area use Automatic Dependent Surveillance (ADS) and Controller/Pilot Data Link Communications (CPDLC) for communications between pilot and controller. Despite these advances in technology, demand for HF voice continues to grow and in 2017, the Ballygirreen radio station handled communication messages from in excess 500,000 aircraft.
The busiest day ever for North Atlantic Communications was 23rd June 2016, when 1,772 aircraft communicated with Shannon Aeradio, Ballygirreen.