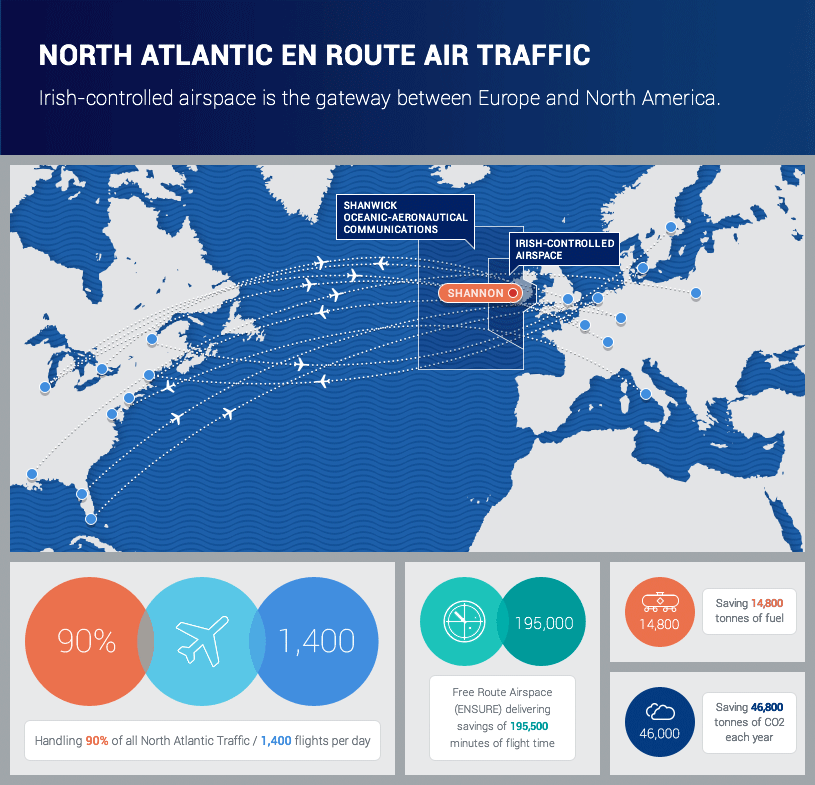 Irish controlled airspace acts as a gateway between Europe and North America, with the IAA's Area Control Centre in Shannon handling over 90% of all air traffic on the North Atlantic. This equates to approximately 1,400 - 1,500 aircraft every 24 hours during the busy summer months.
These aircraft are charged for the air traffic control and HF communications services they receive as they transit Irish airspace. This income amounts to approximately 75% of the IAA's total revenue.
In 2017, Shannon Air Traffic Control safely handled over 343,000 flights.
The IAA was the second European air navigation service provider to remove all route structures from its upper airspace. The effect of this is that airline operators can file flight plans in a more cost effective manner, resulting in reduced fuel upload and burn and reduced CO2 emissions.

At its widest it takes 40 minutes to transit Irish-controlled airspace and 20 minutes at its narrowest.
This airspace controlled by the Shannon Centre is unique in that it acts as an interface between North Atlantic (non-radar environment) and domestic European air traffic (radar environment). These two traffic streams must be managed and integrated on a daily basis. North Atlantic eastbound traffic affects core European traffic on a daily basis.

Over Europe aircraft fly along pre-determined routes that are effectively motorways in the sky. The North Atlantic system however is very different. While aircraft fly on prescribed tracks, the position of these tracks change on a daily basis, mainly due to the weather.