The Authority reserves the right to change the selection process and add or delete stages as deemed appropriate. Any significant changes in the foregoing process will be noted in advance on the IAA website. Applicants are encouraged to visit our website on a regular basis during the process for updates on the selection process and the recruitment schedule.
Invitation to participate in the recruitment process is based on self-declaration in relation to compliance with Age, Education, English Proficiency and Legal Work Status criteria. Applicants must be eligible to work in the EU.
All minimum entry requirements will be checked during the recruitment process and where documentation does not adequately support this self-declaration, the application will be deemed invalid and the candidate advised accordingly.
All applicants will be required to produce a Valid Passport and a Recent Passport Sized Colour Photograph (the photograph will be retained by the IAA) for identification purposes for all stages of the recruitment process.

No Travel or Incidental Expenses will be paid to any applicant for any stage of the recruitment process

Education
You need a Leaving Certificate with 5 passes (including Maths) with Grade C in at least two Higher Level Papers. The educational standard required is a minimum of Level 5 on the National Framework of Qualifications Ireland (NFQ). An equivalent second level qualification may be acceptable (must include Mathematically based subjects). The Quality and Qualifications Ireland (QQI) is the single structure mechanism for recognising all education and training in Ireland. Further details are available on www.qqi.ie.
The Irish Education System Changed in recent years, below is chart to assist with clarifying your eligibility for application purposes.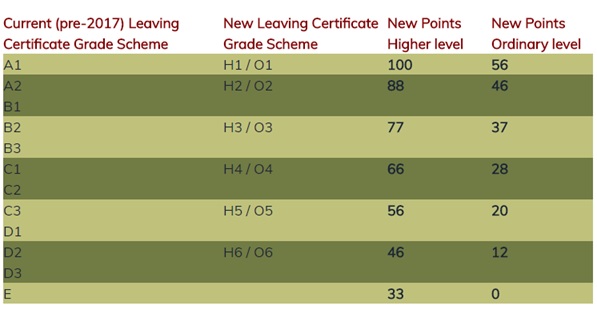 Candidates who claim eligibility through the holding of other awards, including foreign qualifications that signify at least comparable learning, will have the validity of their qualifications assessed by NARIC Ireland on behalf of QQI.
Further details are available on www.naric.ie.

Note on Student Controller Programme
With effect from 19 May 2022 our Student Controller Programme 17 Class (SCP17), students will receive a student allowance of €300 per week for the duration of training, until the commencement of OJTI.
Successful applicants will undergo a Training Programme of approximately 16 months duration, based initially at the Authority's Training Centre at Ballycasey, Shannon, Co. Clare and subsequently at one of the three State Airports (Dublin, Shannon and Cork)
If you successfully complete the Programme, including attainment of an ICAO rating (licence) you may be offered appointment as an Air Traffic Controller. Salary for Air Traffic Controllers is based on an incremental scale.
Where you accept an offer of employment as an ATCO with the IAA and you subsequently serve for less than 4 years you will be required to repay training costs and this will form part of your contract of employment.
Where following completion of your training you receive an offer of employment as an ATCO with the IAA and you refuse the position you will be liable to repay training costs of €85,000.
Students will incur no liability for training costs in the following circumstances:
Where they have their training contract terminated by the Authority
Where Students terminate their training contract prior to the achievement of a rating
Where Students are not offered employment with the Authority
In the event of you being offered a position on the Student Controller Programme, you will be required to confirm your acceptance of the salary and other conditions applying to the post of Air Traffic Controller with the IAA, in advance of your participation on the programme.
NB THE ABOVE IS FOR INFORMATION ONLY