Ballygirreen, Co Clare offers global window for aircraft

Aireon® Aircraft Locating and Emergency Response Tracking (ALERT) is the aviation industry's first and only free global emergency aircraft location service. Air Navigation Service Providers (ANSPs), commercial aircraft operators/airlines, regulators and search and rescue organizations in need of crucial aircraft location data, can rely on Aireon ALERT® to help provide an ADS-B OUT 1090MHz equipped aircraft's most recently known position. As a free service, Aireon ALERT fills a critical need, ensuring search and rescue personnel have the most accurate aircraft position data available when responding to an incident, regardless of global location.

Aireon ALERT utilizes Aireon's space-based ADS-B data and is be operated by the Irish Aviation Authority (IAA). Aireon ALERT is operated out of the IAA's North Atlantic Communications Centre in Ballygirreen, County Clare. This team provides critical, on-demand data to airlines, air traffic control centres and search and rescue organisations around the globe. The service is free of charge and available 24 hours a day, every day.
Aireon ALERT is a lifesaving service. Its accuracy and immediacy have already made a huge impact on the aviation industry for the better.
For further information on Aireon Alert, visit: www.aireonalert.com
The History of Aireon ALERT
The motivation to develop this unique system came after search and rescue teams could not locate a Malaysian Airlines aircraft when it disappeared over the Indian Ocean in 2014 and the remains of an Air France aircraft, which went missing in 2009.

Until Aireon ALERT was launched in 2019, tracking systems were limited to land-based radar. These radars were unable to track aircraft across 70% of the earth's surface. Large stretches of ocean, the poles and remote regions such as parts of Africa and Canada could not be covered.
With safety a priority, Air Traffic Navigators kept in contact with all aircraft in those areas by HF radio or by HF radio signals. They updated their location every 10 to 15 minutes.

However, there was a deficiency in the quality of the data. If you only mark the location of an aircraft every 10 to 15 minutes, you are trying to get the last known record of its position and how far it advanced before crashing. So, search and rescue teams had to cover up to 600,000 square kilometres, an area about the same size as the state of Texas, to find the aircraft.

In comparison, Aireon ALERT has real-time positioning of registered aircraft at all times, anywhere in the world. So, if an aircraft crashes, the team in Ballygirreen can instantly give the location, within 10 kilometres, to search and rescue teams and ultimately save more lives.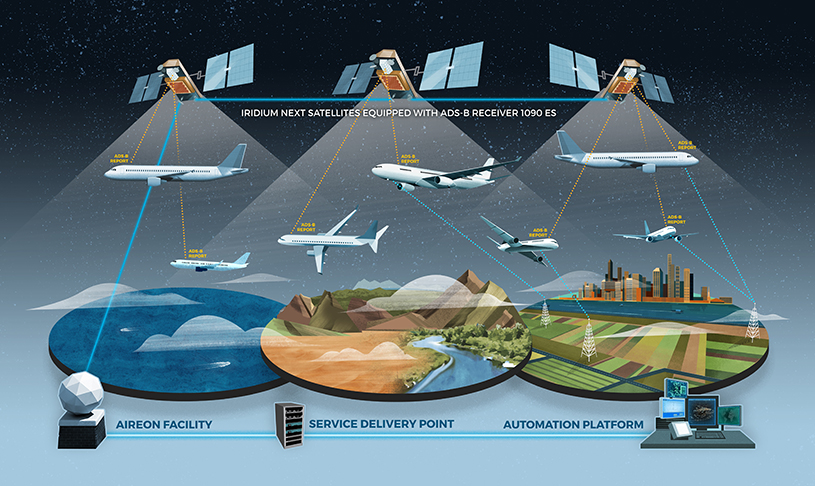 About Aireon
Aireon operates the first ever, space-based air traffic surveillance system for Automatic Dependent Surveillance-Broadcast (ADS-B) equipped aircraft throughout the entire globe. Aireon harnesses next-generation aviation surveillance technologies that were formerly ground-based and extends their reach throughout the world to significantly improve efficiency, enhance safety, reduce emissions and provide cost savings benefits to all stakeholders.
Aireon's high-fidelity, low-latency surveillance data is available for various applications, allowing aerospace industry partners access to revolutionary data capabilities that enhance asset tracking, aircraft situational awareness and decision support analytical tools. In partnership with leading ANSPs from around the world, like the IAA, Aireon ALERT is available to all qualified organizations for emergency situations. For more information, please visit www.aireon.com